Part 3, Strategy 3
Action Item 1: Identify funding priorities and allocate resources accordingly.
Why it matters
After identifying drivers of correctional populations and costs and developing policies to generate savings or avert costs as described in Part 3, Strategy 1 and Strategy 2, state policymakers need to determine how they will shift funding to maximize their investment in public safety.
State policy changes alone aren't enough to control corrections costs and protect public safety—budgetary decisions must be aligned to support successful implementation of those policies. For example, states often need to invest in training staff, upgrading data systems, strengthening existing services, or creating new ones in order for policy changes to be successful.
Further, state policymakers need to account for how statewide policy changes can impact local governments. For example, policies to prioritize use of costly prison beds for people convicted of serious and repeat offenses could result in more sentences to community-based supervision or local jails. States may need to provide funding to minimize the impact of these policy changes on local governments.
In addition to investing in the implementation of policy changes, states may also need to invest in underfunded areas or other efforts to help local governments improve public safety. Many states recognize that by funding notification systems and improving restitution collection, tracking, and distribution they can ensure that victims are safe and have access to help. States may also invest in pretrial services to help ensure that only people who are a public safety or flight risk are incarcerated pretrial or in policing strategies to reduce crime and violence and increase trust in communities heavily impacted by crime and incarceration.
States need to ensure that their investments have the maximum impact on improving public safety. Data and research-driven decision making can assist states in making smart investments. By assessing gaps in services, states can prioritize funding decisions based on state and local need. Further, states need to ensure they are funding services or practices that data and research show can reduce recidivism, repair harm, prevent crime, build trust, and improve the efficiency and effectiveness of the criminal justice system. States also need to continually assess the effectiveness of their investments and make adjustments as necessary.
What it looks like
Key questions to guide action
As your state adopts policy changes, what areas of the criminal justice system need further investment for the policy changes to achieve desired results?
Will state policy changes negatively impact local governments? If so, how can your state adjust policy or provide funding to ameliorate those impacts?
Which public safety needs have been underfunded in recent years?
Use the information that follows to inform your answers to these questions.
With strategic and targeted reinvestments, states can maximize the effectiveness of policy changes.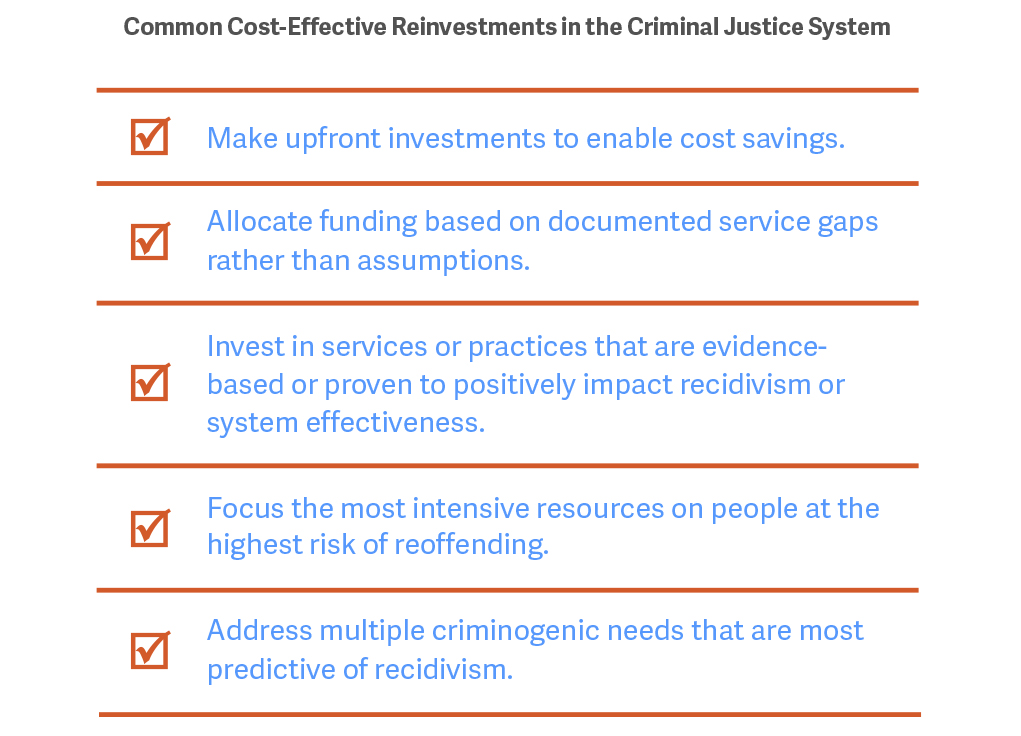 By assessing their needs, states can determine which agencies, programs, and services receive reinvestment funding to further public safety goals.