Part 3, Strategy 3
Action Item 3: Leverage federal resources to drive innovation.
Why it matters
State and local policymakers need to not only evaluate how they are currently spending their state public safety dollars, but also assess how they are spending federal public safety dollars. To ensure that federal funding has the maximum impact on public safety, state and local governments need to identify gaps in funding after reinvesting state dollars to determine how federal dollars can be used to address them.
Further, both state and local leaders can work to leverage these federal resources to drive innovation in law enforcement, behavioral health care, victims' services, and criminal justice. Federal programs can provide funding support and technical assistance to help states pilot new approaches and adopt evidence-based practices based on the latest research.
The Office of Justice Programs (OJP) under the Department of Justice provides millions of dollars in technical assistance and direct financial support to state, local, and tribal governments, and nonprofit organizations each year to advance public safety priorities. OJP provides a range of funding opportunities, from the Second Chance Act grants and the Justice Reinvestment Initiative to Victims of Crime Act formula funding grants to states for victim assistance and state compensation. The Substance Abuse and Mental Health Services Administration within the Department of Health and Human Services also provides funding for behavioral health-related public safety strategies. (See Additional Resource box that follows for more information.) 
What it looks like
Analyze current spending on public safety priorities and identify any gaps in funding.
Assess how federal funds are currently spent to determine whether funding is directed to public safety priorities.
Identify opportunities to pursue federally-funded efforts that align with public safety priorities and drive innovation.

See Case Study: Illinois leverages federal funds to serve historically underserved victims of crime
See Case Study: States enhance victim compensation programs
Key questions to guide action
What federal resources does your jurisdiction currently receive and how are they being allocated?
Do state and local governments collaboratively identify public safety priorities?
Are there federal efforts that can provide funding and/or technical assistance to help address the state's biggest public safety challenges and drive innovation?
How can federal funding opportunities support local governments in addressing their most pressing public safety issues?
Use the information that follows to inform your answers to these questions.
Federal funding can help supplement state budget allocations for public safety priorities and help pilot innovative programs, reduce recidivism, and advance justice.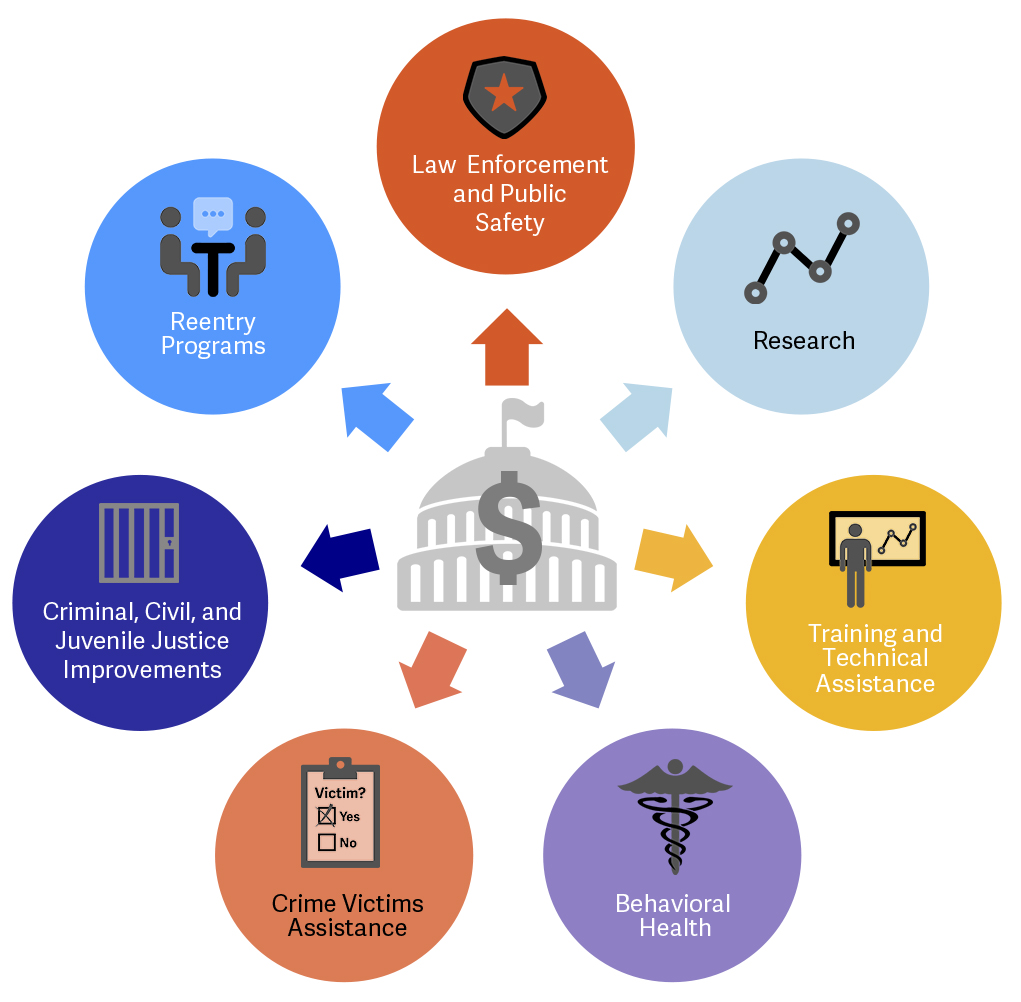 Additional Resources
Department of Justice grants
The United States Department of Justice (DOJ) disburses public safety grants primarily through three agencies: The Office of Justice Programs (OJP), the Office of Community Oriented Policing Services (COPS), and the Office on Violence Against Women (OVW), and each has a website that can help interested parties identify potential funding opportunities.
Health and Human Services grants
Grants.gov
The Grants.gov website is another resource for finding and accessing federal financial assistance. The website helps individuals and organizations find and apply to grants that are available across the federal government.
Additional Resources
Victims of Crime Act formula grants
Since 1984, the federal government has provided Victims of Crime Act (VOCA) formula funding to each state's administering agency (SAA) to determine how best to meet the needs of crime victims. Millions of dollars in state and federal funding are distributed by states to nonprofit organizations, local governments, colleges and universities, hospitals, and other entities to serve hundreds of thousands of victims each year.
The amount of federal funds available to states through VOCA has grown exponentially since FY2015 due to increases in the Crime Victims Fund, the congressional fund from which VOCA originates. In FY2018, the maximum amount of funding available for distribution from the Crime Victims Fund is $4.4 billion.[66] A funding formula determines the amount of money distributed from the Crime Victims Fund to various programs, including the VOCA Assistance and Compensation Formula Grant Programs. The VOCA Assistance Formula Grant Program provides funding to jurisdictions based on population, while the VOCA Compensation Formula Grant Program is based on the amount of state contributions into the compensation program. As such, state victim assistance programs received a significant increase in funding in recent years as the amount of money available for distribution from the Crime Victims Fund increased, while compensation programs largely did not benefit without an increase in state funding.
Direct assistance to crime victims funded through the VOCA Assistance Formula Grant Program includes crisis counseling, telephone and onsite information and referrals, criminal justice support and advocacy, shelter, therapy, and additional assistance. Funds may also be used to develop new programs that address emerging needs, gaps in services, and training of victim service advocates.
The VOCA Compensation Formula Grant Program provides funding to supplement state compensation programs that provide financial assistance and reimbursement to victims for some of their expenses that result from a crime, including medical and dental care, counseling, funeral and burial expenses, and lost wages and income. Compensation programs may also reimburse victims for other types of expenses related to their victimization, such as travel, temporary lodging, crime scene cleanup, and dependent care.
For additional information, see the Office of Victims of Crime Grants and Funding.
VOCA victim assistance funding has more than quadrupled in recent years, allowing states to fund more victim service organizations and provide more subgrants to those organizations.
Federal funding for each state's victim compensation program has varied greatly in recent years.