Part 3, Strategy 3
Action Item 2: Regularly evaluate how to fund public safety priorities.
Why it matters
There are four vehicles states can use to reinvest in public safety priorities: upfront investments, annual appropriations, legislatively-mandated investments, and intra-agency and interagency allocations. States often find they need to employ more than one reinvestment strategy over a number of years based on a state's budgetary landscape.
At times, an agency or entity simply does not have the staffing or resources to properly enact a policy change. In these instances, upfront investments are necessary to help jumpstart new practices and potential savings down the line. However, upfront investments are rarely sufficient to implement a broad-based policy package; states must look to additional reinvestment strategies to ensure sustainability of policy changes.
Many states choose to reinvest using annual appropriations. Yet, just because a state reinvests funding in public safety priorities in this year's budget does not guarantee it will be in next year's budget. States must find creative ways to ensure that policymakers remain committed to reinvesting in those public safety priorities after that initial investment. Some states establish funding formulas that set reinvestment amounts based on how much the state has saved or averted during a specified time period due to policy changes. This approach increases the likelihood that a percentage of the amount saved or averted is allocated to the state's public safety funding priorities instead of reverting to the general fund, but the policy changes need to initially produce savings or averted costs, and states need to accurately measure the impact of the policy change.
Further, policy changes may reduce costs for one agency, but increase costs for another. In these instances, a legislature may choose to transfer funding from one agency to another, yielding a cost-neutral approach. Agencies may also elect to shift funds within departments or across agencies to address agency priorities. 
What it looks like
Assess which policy changes require upfront investments.
Reevaluate funding needs regularly and provide necessary funding levels through annual or biennial appropriations, as needed.
Statutorily tie investment levels to accrued savings or averted costs to ensure public safety priorities are funded.

See Case Study: Pennsylvania law drives a formula for calculating prison savings and reinvestments
See Case Study: Louisiana mandates reinvestment strategy

Transfer funding between agencies, as needed.

See Case Study: Colorado improves public safety through community development
Key questions to guide action
Are upfront investments needed to ensure that the agencies implementing public safety policy changes have the resources to do so?
How can your state ensure there is sufficient funding to support efforts to increase public safety over the next five years?
Use the information that follows to inform your answers to these questions.
Some policies require upfront investment to generate outcomes.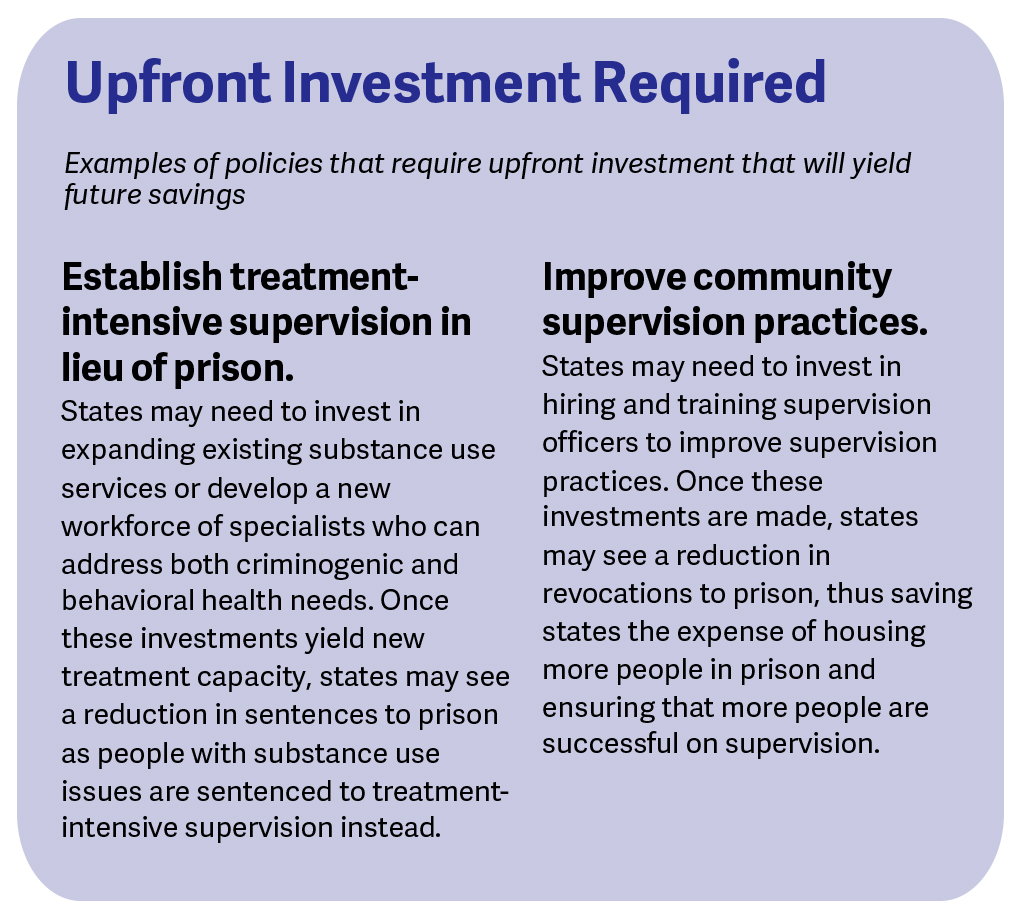 States often use one or a combination of four key methods to reinvest in public safety strategies.